So last night,
Soph
and I made our pilgrimage to the Wachovia Center to see the Biggest Losers of late faceoff: Flyers vs. Sharks. The Sharks had history on their side, though, since they apparently haven't lost to Philly since 12/21/00. (I know I have that game on tape somewhere at home, as it was during my early, especially OCD Flyers fan days!) With both teams nursing significant losing streaks, five games for the Sharks and a whopping eight for the Flyers, we were a little nervous how ornery they both would be. Cripes, it was the Sharks' fourth game in five days to boot! The schedule gods were working against us, or so we thought...
Pre-Pre-game
Soph
and I managed to arrive a half hour early, which is shocking considering how we were late to the
Phantoms game
. Since we had all this extra time, we tried to find
Kristin
and
Nadine
but had no luck and soon wandered off to the Sharks' end of the ice. I must say, there were quite a lot of people in Sharks gear, including Michalek, Bernier, and Vlasic jerseys! The Sharks' side was also pretty crowded because it was Jeremy Roenick's first trip back to Philly since playing here in '04. Even so,
Soph
and I still managed to secure a spot behind the Sharks' net, a good move as our beloved Kyle McLaren is the Sharks' puck boy.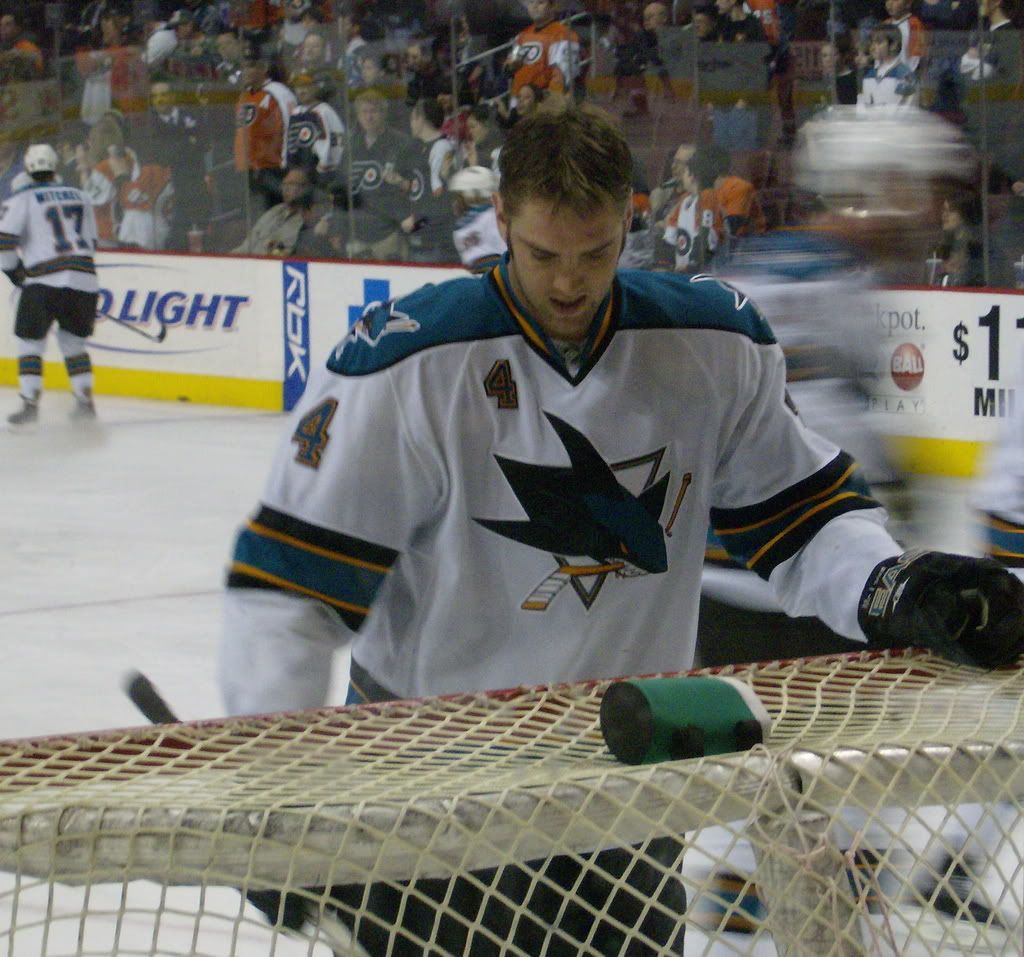 Kyle gets down to business

While we waited for warm-ups to start, I was having a near nervous breakdown because we had brought signs to the game, something I've never been able to do before. I don't care about other people having signs, but I can be reallyreally shy and get super nervous when it comes to being conspicuous about players I like. (Consequently, I have no jerseys and no interest in buying any.) But with safety in girl numbers (ie I wasn't just there with
Pops
),
Soph
got me excited to bring signs. The first sign was one for
Steve Bernier
, which said "Grin and BEAR it" since his nickname is Bear. And then, at the last minute, we made a sign for Kyle. I had wanted to make one for him all along, since he's my main fave, but we couldn't think of anything witty for him. Thankfully, he scored at Jersey on Wednesday, so we made a sign that said, "Kyle, score another goal for us!" The man has two goals this year... so if he did indeed score for us, we probably would have died from shock/excitement!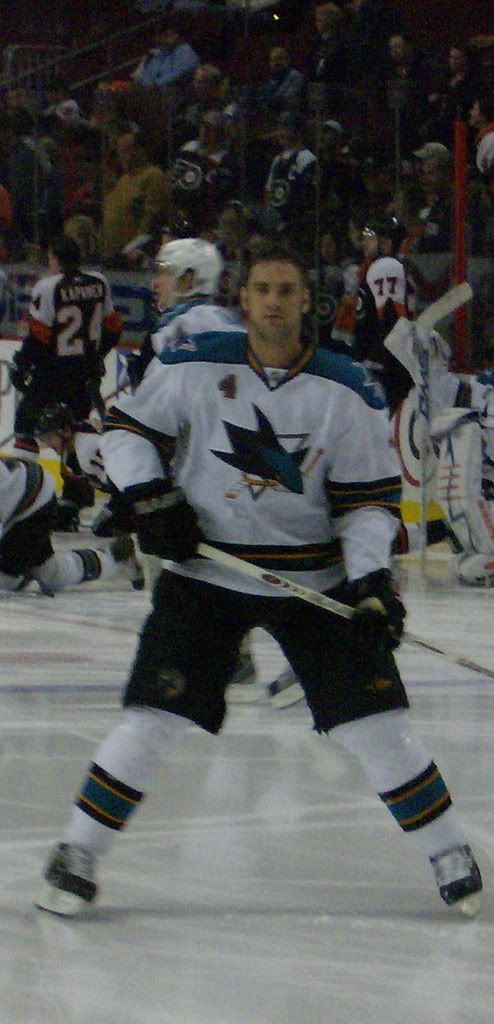 Kyle was clearly entranced by our sign...
Pre-Game Skate
So the Sharks come out of the tunnel, and I'm about to throw up I'm so nervous.
Soph
, meanwhile, is having a fabulous time. "Look, there's Steve! And Milan!" I can't rest until Kyle comes out, and thankfully he does, at the end of the line. Whew! I think he did see our sign because he looked our way, smiled, and kind of laughed. Super exciting! As for Steve,
Soph
thought she saw him check out his sign at one point, but we saw no sort of reaction. (
Soph
: "Ugh, I should have put it in French!") Meanwhile, the real star of warm-ups was one of our other faves, Christian Ehrhoff! For some reason, almost every time he skated by, he'd look at us and smile. This is even funnier because, when we went to a Sharks practice over fall break, Sandis Ozolinsh saw us taking pictures of the d-men and turned Christian around to pose for us. Obviously, Christian loves us! (...Or something like that...) Anyway,
Soph
was so excited by all this attention that she waved to him and then was promptly mortified. Other than that, and failing miserably at taking pictures of Cheechoo for
Giggles
, warm-ups were pretty uneventful.
Christian makes eyes at Soph
First Period
-Although it was supposed to be a diss, I found it hilarious that
"Under the Sea"
was played when the Sharks' starters were announced.
-The Wachovia Center was the quietest I've ever heard it. It was crazy! The "most intimidaing fans in hockey" sounded like they were at a golf game! I guess this is what happens when the team is in the throes of an eight game losing streak. Not to mention that they never see the Sharks and there's no real rivalry there.
-The Sharks came out flying, peppering the Flyers with shots. A few Flyers, like Jason Smith aka Zebulon Pike, were hitting everything that moved, and Riley Cote and Jody Shelley had quite an intense fight off a face-off, right in front of us. Cote got the jump on Shelley and pummeled him for a few seconds, but Shelley eventually had a nice recovery. Shelley, duck lips and all, is starting to grow on us...
-
Giggles
' husband Cheechoo scored! Just when I was getting worried that the Flyers would weather the storm and all of the early Sharks' shots would be wasted! I'm glad that Cheechoo seems to be back to his usual goal-scorer form.
-And shortly after the goal, Marty Biron raced from his net and CHECKED Cheechoo! I don't know that I've seen a goalie come out and try to lay the smackdown on an attacking player.
Soph
and I could only sit there in shock... Uh-oh,
Soph
's Flyers husband vs
Giggles
' Sharks husband! At least Cheechoo gave Marty a nice whack afterwards to even the score.
First Intermission
-As Soph and I tried to navigate the bustling concourse, we saw a little boy in a Flyers jersey, toddling along and clutching a Marty Biron 8 x 10... and kissing it! It was just about the cutest thing ever!
Second Period
But we put that adorableness behind us and got ready for some more hockey!
-The Flyers began to mount a comeback, getting a bunch of quality chances on Nabby. At one point, the Flyers' faithful started to celebrate a goal, only to realize that Nabby had gloved the shot after doing a total split. It was pretty awesome!
-Knuble scored in the last few seconds of the period to tie it up. Since the Sharks love to squander leads these days, I started to wonder if this would be the beginning of the end for them...
Second Intermission
-
Soph
loves Marty Biron, and I like Sami Kapanen and, on some days, Joffrey Lupul, so we decided to pursue the Flyers Yearbook... only to find that it had already sold out! Boo!
Soph
had to content herself with a Marty Biron collectible cup instead.
Third Period
-With the Sharks shooting down our end again, Milan scored!
Soph
was beside herself with joy, as were the various Sharks fans in our section and the next one over. Kyle got an assist, to add to all the excitement!
Milan was inspired by Soph's shirt...

-Douglas Murray scored shortly thereafter to make it 3-1 and sent more Flyers fans to the exits. Murray had yet to score an NHL goal, in 114 games, which further shows the lame state of the Flyers these days. When they announced the goal, Marc-Edouard Vlasic (aka Pickles, my rosy-cheeked, twelve year old looking boy on the Sharks) had an assist, and Soph and I agreed that we wanted him to be announced simply as "Pickles."

-The remaining Flyers fans started booing Danny Briere, which isn't too suprising, since it's Philly, but still is kind of irksome. They're pissed with him? Geez, going into last night's game, Sharks' captain Patrick Marleau was also a -22 and had about twenty less points! I know Briere's production is down from what people anticipated, but he could be doing worse, not to mention that he should be playing with Simon Gagne, whose season is now officially over due to injury.

In the end, it was the Flyers who lost big, as the Sharks won, 3-1. Soph was thrilled to see that Milan was the second star of the game. But that didn't mean our excitement was over! No sir! We almost got locked in the Wachovia Center! Talk about creepy... Okay, so we went to look in Fan Gear after the game because we had to kill time while Pops came to pick us up. (He was originally going to come to the game with us but then decided against it since Foppa has yet to return.) After we finished shopping, we hovered by the doors near Fan Gear, and though people kept coming in and out of the arena, the doors eventually locked automatically. So after frantically trying to follow some Wachovia Center workers to find a way out, one of them sent us to the other end of the arena where the doors were still open. Luckily, Pops arrived around the same time, so we didn't have to wait out in the cold. What a night, what a night!
And to continue this hockey-crazed week, we'll being going to the Flyers' Wives' Carnival so Soph can meet Marty Biron. Stay tuned.