Last Friday,
Soph
and I took our other roommate, we'll call her, um,
Giggles
to her first ever hockey game! Last semester, we dragged
Giggles
to a hockey themed night at school, and she actually won a raffle for four tickets to see the Phantoms (the Flyers' AHL team). Free plus hockey?! Sign us up! We could pick the home game of our choice, so we encouragd
Giggles
to pick a game against the Sharks' affiliate, and we gave my
Pops
the honor of rounding out our quartet.
Giggles'
hockey knowledge is rather limited. She didn't jump on the bandwagon last spring with
Soph
, but she's a lot more open to it now that she's discovered her hockey husband, Jonathan Cheechoo. Sadly, she wouldn't get to see him in an AHL game, but we convinced her that the Worcester Sharks were a good choice even without the Cheechoo factor. With names like Graham Mink and the fabulous Dan Spang, what's not to love about Worcester?!
Though we were super psyched for the game, once game day rolled around, it rained. All day. So I tried to pump myself up by painting my nails a blinding shade of Electric Pink and then adding a top coat of Strawberry Sizzle. Sadly, I think my nail color choice must have blinded Dimitri Patzold during the game. Perhaps I should have chosen Fuschia Bling Bling to assure Worcester the edge...?
As if the nail painting hadn't been adrenaline pumping enough, we kept morale high by having an intense sing-along on the way to the game. We covered most pre-game standards, like "Supercalifragilisticexpialidocious" and "I'd Really Like to See You Tonight" by England Dan and John Ford Coley. Needless to say, by the time we reached the Spectrum, we were ready to rip an elephant in half.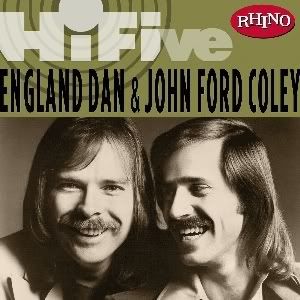 Would you REALLY like to see these two guys tonight?
So our ACTUAL seats for the game were pretty sucky, but seeing as how the arena was more than half empty, we moved down to the lower bowl, on the recommendation of Pops, one of the world's most law-abiding citizens. Giggles was a little nervous about the move... "Heyyyy... What if we sit in someone's seats? 'Oh, I'm sorry, my tickets are for the really BAD seats, oh, now I see where the mix-up was!'" She quickly got over it, though, booing and cheering along with the crowd and taking note of the few stellar name possibilities on the Phantoms. Granted, none were as fantabulous as "Cheechoo" or "Spang," but she did seem to enjoy Kyle Greentree a lot.

During the second intermission, we abandoned Pops to try to see the various food and souvenir options. We got ensnared in a lengthy line at the Phantoms' store, after finally deciding on super intense t-shirts instead of a purple and orange hat with ear flaps and a tassle or, most regrettably, a big foam finger. By the time we made it back to our (our?) seats, the Phantoms had taken a 3-1 lead. Pops was dumbfounded at our ability to miss all the action. "They scored twice! And Phlex was right here in the aisle, taking pictures with those girls over there!" Giggles was more concerned by the announcement that four Phantoms goals would give everyone in attendance a coupon for free ice cream. So when Worcester pulled their goalie with two minutes left, Soph had an easy time explaining the whole empty net thing... "Oh, so now there's a better chance for ice cream?!"

In the end, the Phantoms won... which is okay because Soph and I were kind of just soaking up the AHL atmosphere anyway. We would have liked for Worcester to win, but what are you gonna do? Plus, we were late (thanks to a Sixers game going on simultaneously) and had to get food and stuff at the game, so I felt like we missed a lot of the action. (This wouldn't fly at an NHL game!) As for Giggles, even though she didn't win free ice cream, she wants to go to another hockey game. I think the inclusion of "Sexy Back" and "Bye Bye Bye" after the final buzzer helped seal the deal!